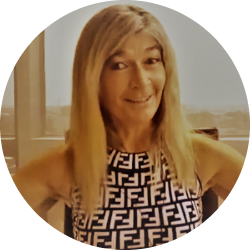 Mihaela Ulieru
✕
Followings
You are not following anyone yet.
11.29019
MPXR
MPXR is your soulbound, non-liquid, non-transferable token: it is your reputation score, and it can be obtained through interaction with content on the platform. It is your reward for helping the decentralization process. You can use it to vote, claim a job, or request content in our Content Factory.
About
Published Content

(18)

posts

(0)
Biography
Dr. Mihaela Ulieru is a technology alchemist and is an innovator at the edge of the impossible. She is founder and President of the IMPACT Institute for the Digital Economy (IMPACT stands for " Innovation Management and Policy Accelerated with Communication Technologies"), which she founded at the peak of her illustrious academic career as a consulting arm of her work aiming at policy reforms for the adoption of latest digital technologies in all areas of society and sectors of the economy. Along the way she kept inspiring and supporting young entrepreneurs – one of her first MSc students was Garret Camp, co-founder of Uber and StumbleUpon – and she currently advises several startups aiming to put the "Fourth Industrial Revolution" technologies (AI, Blockchain, IoT, AR/VR) to work to make the world a better place.She has held and holds appointments to a plethora of advisory boards and councils, among which: the Science, Technology and Innovation Council of Canada (appointed by the Minister of Industry), the Science and Engineering Research Council of Singapore (appointed by the PM), Expert to the World Economic Forum Global Agenda Council on Data-Driven Development where as part of her work she proposed Blockchain to be added to the Top 10 Future and Emerging Technologies.As a thought leader Dr. Ulieru promotes the advantages of leveraging Blockchain and its potential to create equality and a fairer society through the inclusion of the 99% in the economy. As a top high tech academic researcher she spearheaded and led major multi-stakeholder programs leading the scaling-up of operations through strategic partnerships and networks in Industrial Informatics, the Future of Medicine, Self-Organizing Security, the EnergyWeb, Global Manufacturing Systems, and Sustainable Personal Living Technologies. She has authored over 200 peer-reviewed scientific articles, Keynoted over 250 events, supports several non-profits and foundations and still has time to write poetry.
Education

Doctorate degree
Interests
Research
Philosophy and related
Governance
Partnership
Travel
AI Art
There are no drafts yet
To get started go to the content factory and write some content it will automatically get saved here