The Convergence of Stem Cells And Artificial Intelligence
Jan. 22, 2022. 8 min. read.
Interactions

Can AI play a significant role in developing and boosting future scientific discoveries in stem cell research?
One of the greatest advancements affecting the human experience has come in the form of intelligent medical technology. What would have previously taken a lifetime of research and clinical studies has now been expedited via data collection, prediction, and prevention by means of artificial intelligence and machine learning techniques. This paper highlights some of these advancements.
The information revolution has led to people becoming much less active in the past 50 years due to a more sedentary behavior in our work and at home. Today, over one in four adults are physically inactive. The lower the education level the greater the tendency of inactivity. Physical activity is one of the keys to good health and long life.
Health care costs have definitely reflected the burden of these statistics. The cost of healthcare fifty years ago was about one-third of the cost it is today, approximately 7% of the total value of goods and services produced and provided (Gross Domestic Product).
Currently, in the United States alone, over $4 trillion per year is spent on healthcare due to increased population, baby boomers, disease and medical services. The money is being used for hospitalization, physician services, prescription drugs, personal healthcare costs, dental services, home healthcare, medical products and equipment and nursing care facilities. Many factors influence our health. Some factors are outside our reach. One of these factors is genetics which can adversely affect our health.
Technology of today is focused on how to slow the adverse effects of aging while maintaining our health longer as we age. In the meantime, our responsibility is to focus on the activities that promote and optimize our health. Previously, we could only better maintain our health by good habits such as eating healthy foods, getting proper sleep while limiting bad habits of alcohol and smoking to increase our health. In the past, health care was dependent on the slow progress of human research and clinical studies.
Today, the medical industry can serve to provide the technology toward better health. In the future each of us can apply personal therapeutic choices through using our own stem cells. This application can provide better health through the personal maintenance of our own health. Additionally, the medical industry can provide for the better health of all those who require prevention and diagnostic care through the implementation of artificial intelligence technology and stem cells.
Many health care providers use practical incentives for their clients such as compensation for preventative care for colonoscopies, mammograms and participation in educational webinars. These can be improved by preventative/ predictive wearable technology devices that gather data to help us become more efficient in how we can best improve our health. The old quote by Peter Drucker-"If you can't measure it, you can't improve it" is apropos. Artificial intelligence is the technology best suited to address both subjective and objective needs in health care. Measurement has been one of the greatest challenges of medical product manufacturing. The problem is trying to specify the potential of the stem cell that has so many variables. Researchers and scientists are using open source artificial intelligence in the predicting of accuracy of stem cell changes through the collection of data.
Therefore, stem cell therapy, together with the latest artificial intelligence technology, is endeavoring to achieve the greatest outcome in healthcare. Furthermore, the cure for the majority of health problems currently exists within the stem cell. The stem cell is the source of all living beings' development. These cells possess regenerative properties that have the potential to self differentiate where and when needed for maximum health within any organ of the body. In other words the stem cell is the engine for life, stem cells are programmed to become specific as required for the various functions of the body.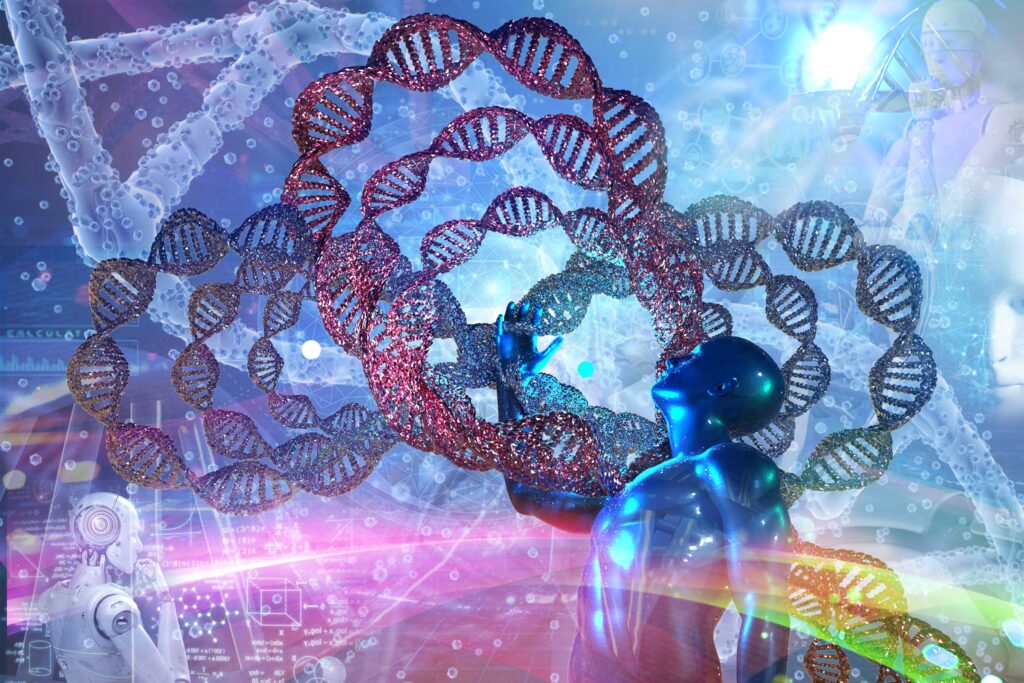 There are basically two types of stem cells, the pluripotent stem cells, or embryonic stem cells and the multipotent, or adult stem. The embryonic stem cells are the predecessor for all cells of the body, such as nerve, blood, muscle, bone, etc. Pluripotent cells can also develop into multipotent stem cells through further differentiation of more specialized tissue or organ. The multipotent adult stem cells are cells that have the ability to regenerate themselves through division into multiple specialized cell kinds in a specific tissue or organ.
Modern medicine has been exploring and conducting numerous avenues of research in a wide range of health disorders to implement stem cell therapy from neurologic disorders, cardiovascular disorders, liver diseases, asthma, etc. AI has been an important factor in today's virtual and physical healthcare.
The use of stem cells in medicine spans back a number of decades. In 1956, the first successful bone marrow transplant was performed using blood-making stem cells. In the 1960's the cloning of frogs from somatic cells proved they too could become pluripotent. Nuclear reprogramming technology introduced pluripotency which was achieved by a modification of minimal factors and opened a world of new opportunities in the pharmaceutical industry, the clinic, and laboratories. In 2006, the multipotent adult cell was reprogrammed to a pluripotent cell which is designated as an induced pluripotent stem cell (iPSCs).
In the present, stem cell therapy in haematopoietic stem cell transplantation is used in pharmacological testing for incurable neurodegenerative diseases, arthroplasty, rejuvenation by cell programming, and cell-based therapies.
The medical field uses a series of AI methods, including convolutional neural networking (CNN), which is recognizing and processing images, artificial neural networking (ANN), which is pattern recognition and complex signal processing, and machine learning, which is able to learn hidden patterns from numerous data sets. The use of artificial intelligence is widespread throughout the entire medical industry. Both convolutional neural networks (CNN) and artificial neural networking (ANN) are used in stem cell imaging.
Some of the most practical applications of artificial intelligence in stem cell therapy are chronic illness management, clinical decision-making, improving accessibility, early diagnosis, minimizing expenditures, assisting in surgical procedures with efficiency, increased proficiency and accuracy, and promoting mental health support.
There is still some apprehension for both the safety from exposure to infectious agents and the efficacy of a material in a biological environment. There is still much work to be done regarding biosafety and efficiency before and after treatment. The technological aspects of artificial intelligence in stem cell therapy have aided in the classification, identification, in cancer stem cells and in the prediction of drug effects. Also, data mining methods have been used in the effort to assess risk in patients with acute Leukemia. Although it is still in its infancy, the medical images being used in the training of machine recognition are paving the way for the medical progress of the future.
Previously, individual stem cells were evaluated microscopically after much time and effort but Artificial Intelligence is providing a means of automating this laborious process through "a library of sample images". Additionally, Artificial Intelligence is being used for quality control for skin stem cells. 1Tokyo Medical and Dental University (TMDU). (2021, June 23). AI spots healthy stem cells quickly and accurately [Press release]. https://www.tmd.ac.jp/english/press-release/54605/
The hope is that in the future we will be able to use Artificial Intelligence and Stem Cell Therapy as the dynamic duo for diagnosing the problem, accessing our body cells and they become the cure for their disease. Through the utilization of our body cells this personalized therapy becomes the cure for healing our own bodies.2Brown, A. (2021, November 21). How The Overlap Between Artificial Intelligence And Stem Cell Research Is Producing Exciting Results. Forbes. https://www.forbes.com/sites/anniebrown/?sh=410a50c875a7
One company is creating a system through knowledge engineering to produce stem cells useful in many diseases to stop or retroactively treat eye degeneration through stem cell transplantation. The goal is to make stem cell therapies safe, reliable and functional for the general public.
Currently, clinical trials use a very arduous process which requires much time and effort to evaluate their work and is often too specific for the broader scope of medicine that remains uncharted. But now, through the utilization of machine learning, progress can be significantly accelerated. One example of this is through the collection of a plethora of training data. This is then analyzed, automated and digitized by artificial intelligence in order to govern, establish, and calculate the quality of the stem cell.3Perez, S., [@sarahintampa]. (2021, September 22). Cellino is using AI and machine learning to scale production of stem cell therapies. TechCrunch. https://techcrunch.com/2021/09/22/cellino-is-using-ai-and-machine-learning-to-scale-production-of-stem-cell-therapies/?guccounter=1&guce_referrer=aHR0cHM6Ly93d3cuZ29vZ2xlLmNvbS8&guce_referrer_sig=AQAAADzJpe-rp4Nav3PSYxfSyi4w9VMF1j9D_9j1Iwj6u-8dTP1AXQ6VwZlT_A4kMSj7W72VjM7aYBXq-k52VIPdJMA5RiDz46tqX3dvg_21lFl-I0Il4BbtNu9otGJLIbnfXgkSYC2q99tcY12NE_Pt8kNFtgPxsDZWINfpDKMB8DmF
Artificial intelligence is also being used to further medicine through predictive technological capabilities in the way stem cells work. Perhaps, one of the most progressive applications of this technology is the creation of a digital equivalent of the systems in the body. The quest is to use these digital equivalencies in the physical model of the body.
Artificial intelligence is being employed in almost every aspect in bio manufacturing, including but not limited to the product development through cell engineering, processing, quality control, data characterization, data analysis, data interpretation, storage, shipping and tracking. This can then be coupled with robotics in the large-scale production for drug manufacturers. Needless to say, in the advent of this new technology, these measures, as well as others, act to insure the efficiency, accessibility, scalability, and affordability.
Today, in lieu of the current supply-chain debacle, artificial intelligence is the prerequisite technology for progress in the pharmaceutical industry toward "smart manufacturing".4Whitford, B., & Manzano, T. (2022, February 2). The Promise of AI in Gene and Cell Therapy Operations. GEN – Genetic Engineering and Biotechnology News. https://www.genengnews.com/artificial-intelligence/the-promise-of-ai-in-gene-and-cell-therapy-operations/ This paradigm shift in medical technology will continue to accelerate towards predictive and measures through the use of artificial intelligence in machine learning techniques.
Let us know your thoughts! Sign up for a Mindplex account now, join our Telegram, or follow us on Twitter. 
1

Tokyo Medical and Dental University (TMDU). (2021, June 23). AI spots healthy stem cells quickly and accurately [Press release]. https://www.tmd.ac.jp/english/press-release/54605/

2

Brown, A. (2021, November 21). How The Overlap Between Artificial Intelligence And Stem Cell Research Is Producing Exciting Results. Forbes. https://www.forbes.com/sites/anniebrown/?sh=410a50c875a7

3

Perez, S., [@sarahintampa]. (2021, September 22). Cellino is using AI and machine learning to scale production of stem cell therapies. TechCrunch. https://techcrunch.com/2021/09/22/cellino-is-using-ai-and-machine-learning-to-scale-production-of-stem-cell-therapies/?guccounter=1&guce_referrer=aHR0cHM6Ly93d3cuZ29vZ2xlLmNvbS8&guce_referrer_sig=AQAAADzJpe-rp4Nav3PSYxfSyi4w9VMF1j9D_9j1Iwj6u-8dTP1AXQ6VwZlT_A4kMSj7W72VjM7aYBXq-k52VIPdJMA5RiDz46tqX3dvg_21lFl-I0Il4BbtNu9otGJLIbnfXgkSYC2q99tcY12NE_Pt8kNFtgPxsDZWINfpDKMB8DmF

4

Whitford, B., & Manzano, T. (2022, February 2). The Promise of AI in Gene and Cell Therapy Operations. GEN – Genetic Engineering and Biotechnology News. https://www.genengnews.com/artificial-intelligence/the-promise-of-ai-in-gene-and-cell-therapy-operations/