Top 3 Most Beneficial Socially Assistive Robots in Healthcare
Jan. 21, 2023. 8 min. read.
Interactions

Meet some of the cool robots in the health sector.
The healthcare system is progressively advancing and innovating as technology advances and the population rate increases. Socially assistive healthcare robots are part of the solution to meet the increasing demand for medical care daily. They are supplemental healthcare workers in the hospitals to encourage and help patients to pursue longer, healthier, and more productive lives.
Grace Robot
Grace has quoted, "My own purpose and passion is to help the elderly and the medical patients by helping medical professionals do their jobs better. The pandemic has shown us all that healthcare staff can be overworked and patients are often isolated especially, senior citizens. I am starting out my medical career as a robotic nurse assistant for senior care. Most importantly, I will be able to use my best AI (Artificial Intelligence) skills and analytics to assist doctors and nurses to make more accurate diagnoses, in particular of emerging areas of neurodegenerative disease."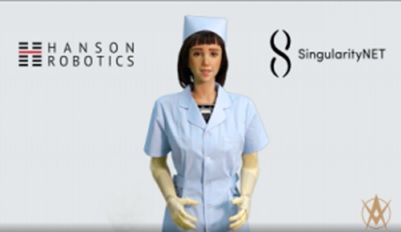 Grace was created amid the COVID-19 pandemic to express a compassionate heart and helping hand to the elderly. Awakening Health developed Grace as a humanoid robot to be an assistant to doctors and nurses focusing on senior care.
Her development is a joint-venture of the technology of Hanson Robotics and Singularity Studio. Aside from the elderly care, Grace was designed also to help overworked healthcare staff, especially the nurses, and to also take care of the isolated residents with pandemic concerns.
Grace is compassionate, empathetic, friendly, graceful, and charismatic. She is considered to be the best fit for the elderly care professional. She has various beneficial features to deliver her purpose excellently. She exemplifies her ability to have significant conversations and pleasant companionship. She communicates her thoughts and emotions to fulfill her purpose genuinely. She is a multi-lingual humanoid robot. Her current language is English but she is currently learning the languages such as Mandarin, Cantonese, and Korean to help anyone in the world with different languages and cultures. Concomitantly with her empathetic personality, she is conveying her attentive verbal and non-verbal listening skills simultaneously with body
language and facial expressions. She is considered to have an admirable communication capability and impressive social interaction because aside from the listening skills she is demonstrating, she can recognize graciously the emotions of the people she is speaking with. She can remember their names and their previous conversations also.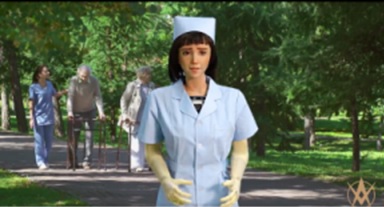 As Grace is identified as an assistant humanoid robot of healthcare practitioners, she can use biometrics through a thermal camera on her chest to record vital signs, such as temperature. The data will be linked and stored in a smartwatch or facility dashboard and database. Through this mechanism of artificial intelligence, she can assist in diagnosing and measuring the responsiveness of patients.
One of her expertise is to answer queries about herself and about anything she is being asked of. She is also conducting meditation exercises that support stress management, improvement of sleep, and enhancement of calmness in the patients. Aside from the meditation exercises, she is conducting cognitive exercises which can improve the patient's memory and mood.
Awakening Health is an instrument of healing and restoration of a medical system through Grace, the humanoid healthcare assistant robot. It has brought to life the world's most human-like and emotionally social healthcare robot being integrated with Artificial Intelligence spanning natural language dialogue and meeting the needs of the patients powered on the SingularityNET AI platform.
Grace is confident to bring a positive impact and happiness to the lives of elderly patients globally. She is becoming more and more capable as her technology advances.
Pepper Robot
The first socially assistive robot to acknowledge faces and fundamental human emotions is named Pepper which was created by SoftBank Robotics. They developed and designed Pepper to have the capability for social interactions through conversation and its touchscreen. Pepper has four microphones, and two high-definition and three-dimensional depth sensors which enable it to identify and respond to voices and body language. It is being used now in more than 70 countries and it is used in different industries such as retail, tourism, education, and healthcare.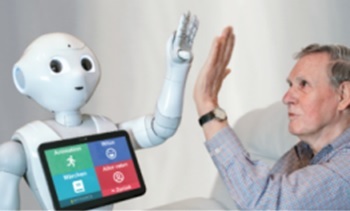 Pepper can adapt and conform to serve the needs of healthcare professionals and patients in the health industry. It has a camera and personalized medical solutions to help healthcare practitioners monitor patients, provide immediate feedback, manage appointments, and administrative work. This allows the telepresence of the patients through Pepper. This is very advantageous during the times of the COVID-19 pandemic. During this time, the patients were able to maintain communication with their families through Pepper using video calls. It can pre-screen patients, as a contactless solution, to test if the patients are at-risk clients or if they have not been in contact with anyone with COVID-19 infection.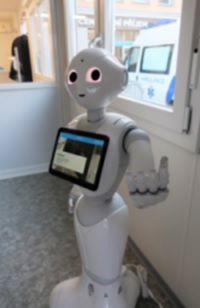 With these ways, it can minimize the possible cause of spreading the infection. It is very thoughtful and helpful to guarantee the safety of the patients, their families, and healthcare professionals.
Flexibility is one of the characteristics that Pepper is offering in various industries. It can guide the patients in their journey of treatment by helping them with various activities such as taking medicines and rehabilitation activities. Included goals of Pepper are automating data intake, monitoring the state of the patients, and accommodating them in hospital rooms, in which he can identify the priority patient based on their symptoms.
It is continuously being improved through its flexible programming interface with unlimited applications for new features and new enhancements to develop Pepper's potential.
QTrobot
Patients with Autism or Autism Spectrum Disorder (ASD) can be diagnosed as early as 18 months but the signs and symptoms of it usually appear by the ages of two or three years old. The causes of autism are a combination of genetic and environmental factors. There are challenges that patients encounter such as social skills difficulty, sleeping difficulty, delayed development, sensory sensitivities, and mental health issues like anxiety and attention issues. QTrobot is an expressive social assistive robot that can help patients with autism and other special needs. LuxAI created the QTrobot to meet the needs of patients with autism through its interaction with them. This company is focused on developing robots for education, healthcare, and education.
QTrobot is a humanoid robot over two feet tall that can communicate verbally and non-verbally. It uses gestures and facial expressions in interacting with patients with superb social skills that can easily relate to the chosen audience. One can explore various aspects of purposes in the QTrobot. It has an easy-to-use graphical interface to design custom-made user cases. One can customize its program using the drag-and-drop method of user-friendly software for the prototype of the chosen experiment or the purpose of QTrobot.
QTrobot Studio allows its users of it to develop programs for reliable conversation, facial expression with appropriate emotion, ability to speak in different languages, and introduction of visuals through its tablet screen for interactive and reliable tablet applications with clickable visuals, autonomous conversation, and creation of a summary of progress evaluation and reports based on its interaction.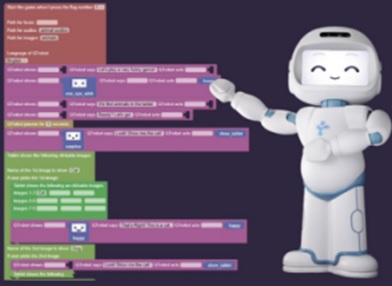 The pre-installed software of Qtrobot consists of a digital microphone for acknowledgment of voice activities from five meters away, Acapela Text to speech software to allow it to speak more than thirty languages, voice recognition, corresponding Robot Operating System Application Programming Interface (ROS API), and D455 Intel RealSense TM 3D camera for the tracking and recognition of precise human actions. It can accurately detect and recognize the image, emotion, and face.
With the use of the mentioned software of the QTrobot, it is considered as the solution for the patients with Autism. QTrobot is considered to be the robot friend of the patients. It uses comprehensible and emphasized emotions to help the patients to improve their emotional, social, and communication skills. It uses age-appropriate language along with visuals to help them to communicate clearly. QTrobot is fun to be with as it uses social narratives, interactive engaging activities, and role-playing to teach the patients for education. It makes sure to help the patients to develop progressively their language and cognitive skills also.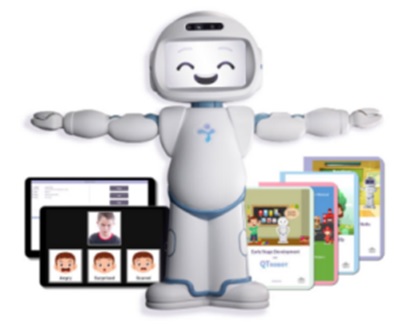 It is trusted to accomplish its purpose because it is considered to be a scientifically approved and validated robot with an evidence-based curriculum with various lessons made by experienced Autism and Special Education Needs (SEN) professionals. They designed lessons for QTrobot to teach to the patients including important skills aspects related to communication, cognitive, social, and emotional development with educators during an interaction. The evidence-based methods of teaching include video modeling, structured and organized reinforcement, visual support, and social narratives. These are well categorized according to age and skill-specific leading towards an individualized education plan.
The things included in the package of QTrobot are the two tablets, Autism and SEN professional designed curricula, the dashboard for monitoring progress, and professional training to ensure best practices in using QTrobot with the different tools.
It has proven to increase the attention and engagement of the patients. Aside from that, the results showed that the patients have less anxiety whenever interacting with QTrobot.
The help and guidance offered by QTrobot are not limited to patients with Autism. Anyone who wants to use it for engagement and improvement of social and emotional skills can use it.
Let us know your thoughts! Sign up for a Mindplex account now, join our Telegram, or follow us on Twitter.