The End of Days: Crypto and the Apocalypse
Oct. 09, 2023. 4 min. read.
Interactions

Facing the Apocalypse: Can Crypto Survive the End? Explore its role in a doomsday scenario. Hedge or hype? Is crypto the key to resilience or just another digital illusion?
Never has the end seemed quite so near. Climate change, war, a pandemic… and the birthing of a monstrous digital god that rewrites society in a few arcane flashes of code. The genesis of digital life could be humanity's approach to The Great Filter – if we don't nuke each other in a fit of overenthusiasm first.
Life, however, always finds a way. And crypto, many argue, could too. Crypto has long been championed by doomsday prophets, preppers, and hedge funds as the ultimate and absolute hedge against complete societal breakdown, whatever form that takes. Should there be an apocalypse-level event, crypto's properties do make it uniquely resilient against such a fall. Where has this narrative come from, and does it hold up to scrutiny?
Crypto as a Hedge Against Disaster
Crypto has historically boomed in times of distress. Much of the last bull run was driven by crypto's ability to be a hedge against inflation, as money was being printed at a neckbreaking pace to pump liquidity in the economy. In the stricken economy of Turkey crypto ownership is at record levels. In Russia and Ukraine, where war rages, crypto offers a way of transferring value that can't be blocked by a bank's policy or collapse. Crypto's consensus systems operate globally, not locally, so should any central banking system fail (and with it the society it oversees), crypto should still store value.
Anarchists and preppers have long seen crypto's value: no government control, anonymity, non-correlation with geopolitical borders, and a form of cash to use if traditional cash becomes worthless. That global consensus maintained by computers means any localised failure doesn't bring down a given cryptocurrency except in the absolute worst cases (a meteor strike or something affecting all global regions). The universality of crypto is unmatched by anything but gold, and its ability to cross borders and ignore financial firewalls is unparalleled. It's no wonder crypto has carved out a place as the 'apocalypse' currency.
This is particularly true of any manmade apocalypse, such as a powerful dictator running riot on the world stage, or any usurpation of the central financial system by a single overweening authority (maybe that last one has already happened). Pseudonymous and sanction-resistant, crypto can maintain a financial ecology governed by the people on the ground, and act as a counterpower to techno-dictatorships.
Can crypto be a medium of exchange in a truly global apocalypse? That is far more questionable. First, who would want it? As the ashes of the nuclear winter fall, will people care what the ledger says? People will be far more interested in food than tokens on a ledger. If you're scavenging in the wastelands, a packet of noodles becomes more important than the contents of your Web3 wallet.
Moreover, upkeep of these decentralised ledgers could be gravely compromised by mass outage of the internet, eradication of mining hubs, and more. It's possible one large-scale intact mining farm could gain a 51% share of a blockchain, and this would break the blockchain's status as trustless or decentralised. There are counters to this: it is possible to send Bitcoin over radio, and there are satellite networks which are likely to survive any terrestrial disaster – but it's grasping at straws to think the priorities of society would drive towards upkeep of the ledger when the ice caps melt.
Proof-of-stake coins – the majority of the top 100 cryptocurrencies – are even more under threat. Substantial amounts of the competitive quorum that governs these chains could be wiped out no matter what the event, and 51%-ing these chains might become a whole lot more feasible as your competitors die off. The sad fact is when everything goes wrong, humanity has two choices: order or violence. 1s and 0s on a ledger are unlikely to be what holds back our most ruthless instincts.
And then there is AI. The black box of the Singularity could have some unexpected outcomes, one of which is apocalyptic. A newly minted AGI may decide that crypto is the way forward, and immediately ensure its own seizure of the ledger. Such an AGI may require us to advance to quantum computing – already itself an existential threat to crypto.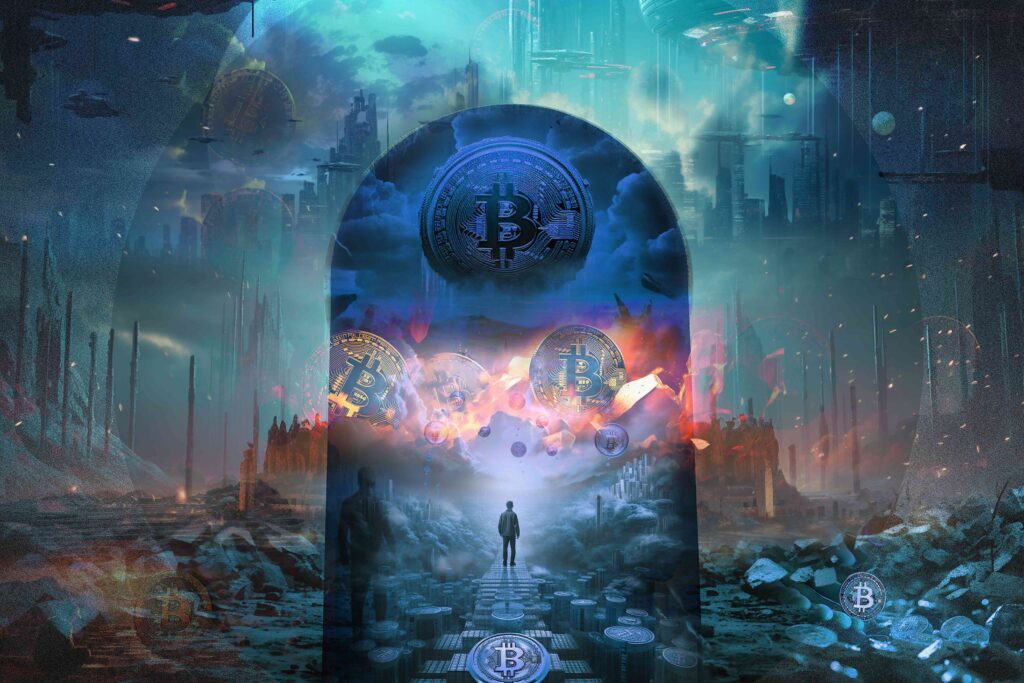 Hold Until the End?
So, crypto, pemmican, and a gun? Is it all you need to survive the end of days? Well, maybe. Crypto will continue to serve as a hedge against social upheaval, and a 'minor' or localised apocalypse will probably lead to exponential uptake of crypto as a medium of exchange. But if the end of days is truly everywhere, it's unlikely crypto will be part of any new world order. But keep your cold storage USB close just in case.
Let us know your thoughts! Sign up for a Mindplex account now, join our Telegram, or follow us on Twitter.