How to measure your brain activity using an EEG sensor mounted on a VR headset
Aug. 04, 2023.
2 min. read
Interactions
New EEG sensor designed for comfort and integration with VR-related research
RELATED NEWS
Researchers at The University of Texas at Austin have installed a noninvasive electroencephalogram (EEG) sensor on a Meta Quest 2 VR headset, allowing for measuring brain electrical activity during immersive VR interactions, or for other purposes.
The sensor could be used by people with anxiety to detect their reactions, for example, or to measure stressors of aviators using a flight simulator, for example.
New comfortable EEG electrode design
The new electrode design overcomes problems with currently available electrodes, which are rigid and comb-shaped, and hair blocks them from connecting with the scalp, creating an uncomfortable experience for the user, according to Hongbian Li, a research associate in the Cockrell School of Engineering's Department of Aerospace Engineering and Engineering Mechanics.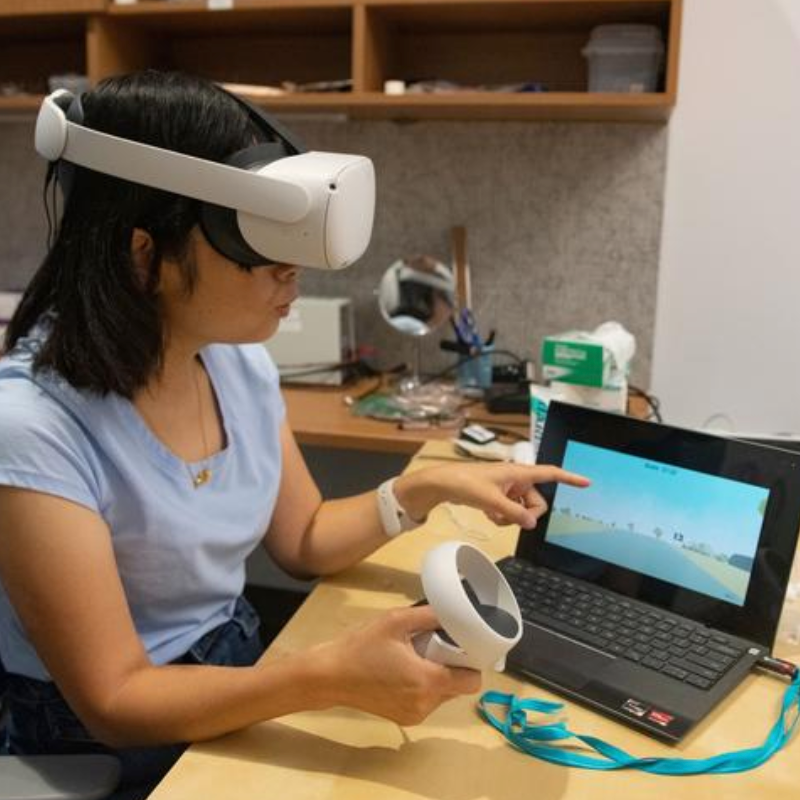 The new design uses spongy electrodes made of soft, conductive materials, arranged across the top strap and forehead pad. An EEG recording device is attached to the back of the headset.
Detecting human-robot interactions
This technology will play a role in another major research project at UT Austin: A new robot delivery network that will also serve as the largest study to date of human-robot interactions. The VR headsets will be used by people either traveling with robots or in a remote "observatory." They will be able to watch along from the robot's perspective, and the device will also measure the mental load of this observation for long periods.
"If you can see through the eyes of the robot, it paints a clearer picture of how people are reacting to it and lets operators monitor their safety in case of potential accidents," said Luis Sentis, a professor in the Department of Aerospace Engineering and Engineering Mechanics who is co-leading the robot delivery project and a co-author on the VR EEG paper.
The researchers have filed preliminary patent paperwork for the EEG and are open to partner with VR companies to create a built-in version of the technology.
Citation: Li H, Shin H, Zhang M, Yu A, Huh H, Kwon G, Riveira N, Kim S, Gangopadahyay S, Peng J, Li Z, Rao Y, Sentis L, Millán JdR, Lu N. Hair-compatible sponge electrodes integrated on VR headset for electroencephalography. Soft Sci 2023;3:22. https://dx.doi.org/10.20517/ss.2023.11 (open-access; PDF also available).
Let us know your thoughts! Sign up for a Mindplex account now, join our Telegram, or follow us on Twitter.